We admit it.  The Tour never thought we'd see the day.  And yet here it is.
As we welcome Jodie Whittaker to the clan we're reminded, yet again, about the endless possibilities that Doctor Who affords.  Series 11 under the stewardship of Chris Chibnall promises to be truly different not only to the notion of nu-Who as we've come to know it, but any Doctor Who in general.
And isn't that exciting?
The Tour marks the occasion in the best way we know how, by assembling an impromptu collection of over 1200 images of the incoming Doctor.  We've even thrown together a small set of caps for Jodie Whittaker's introductory trailer.  Not a bad afternoons work.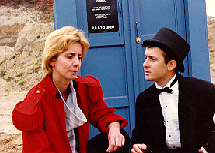 One small note for those of who've been in the game for a long, long time.  The notion of a female Doctor, to our knowledge, was first put to video back in 1984 when Ryan Johnson out of Seattle did a series of wonderful fan films featuring Barbara Benedetti as a putative (6th?) Doctor.  Speaking with no small experience in the matter, these films, especially The Wrath of Eukor, were quite good at the time.  They're worth a look.
The new Wing of the Tour for Ms Whittaker is still under construction, but expect that all of the linkages will be fully incorporated soon.